Another day, another PayPal scam email hits the in-box. It would be easy for someone to think that this was genuine, especially when is rendered with PayPal graphics. This is why we investigate each and every scam email to see how convincing they are, and assess the risk of people getting fooled into responding. We then report them through the appropriate channels, and encourage others to do the same.
What to look for on this PayPal scam email
The email, reproduced below, is based on a genuine PayPal notification, but with subtle differences.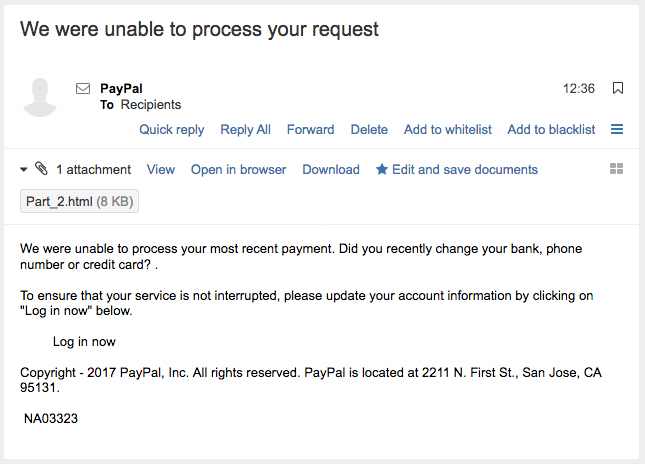 A quick check of the sender by hovering over the from PayPal  shows that it is directing to someone called anitad@uvigo.es.  So the PayPal scam email would send your  reply there, not to PayPal! Be warned.
The Log in now button, does render in the browser as a button, but we have the html blocked to avoid surprises. As you might expect from a scam email it does not point to PayPal either, but an unlikely domain registered in Australia. This site is buried at the bottom of a deep sub-domain chain, so it is possible that the site owner does not know about it. We will be contacting the organisation separately, as they might not even be aware that their site is being used nefariously.
How to deal with PayPal scam emails
Make sure your family, friends and colleges are aware that these emails are out there, waiting to trap the unwary.  If you receive an email claiming to come from PayPal, please do not reply to it. Do not click on any link or button, or open any attachments. Simply forward the email to spoof@paypal.co.uk, then delete it.
You can also report the incident to the police, although they will only record it for statistical purposes. The police suggest that the public can help disrupt fraudsters by reporting scam emails. People are urged to report them through reportlite.actionfraud.police.uk.
What else can we do?
For further advice on fraud and how to avoid it, see the police fraud action  website: www.actionfraud.police.uk (opens new window)
For further information on phishing and malware please use the following links:
www.actionfraud.police.uk/fraud-az-phishing (opens new window)
www.actionfraud.police.uk/fraud-az-malware (opens new window)